---
Bulletin Board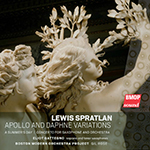 We are very pleased to announce the release of Lewis Spratlan's Concerto for Saxophone and Orchestra released on BMOP/Sound. Please click on the button below to learn more.
---
We are excited to announce the addition of Delvyn Case to our catalogue.
Please review his biography in our composer section to find out more him. We will be adding his music to our catalogue shortly.
---
We are also honored to advertise The Legendary Saxophonists Collection.
Please have a look at this remarkable and historical collection comprehensive in its scope which is catalogued in the libraries and archives of some of the world's most prestigious music institutions.