---
Celebrate with your saxophone quartet with these KPH offerings!
Now offering 10% on each, or Purchase all three and receive 20% off!!!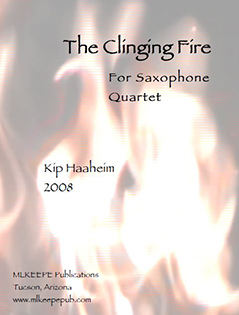 Haaheim, Kip – The Clinging Fire for saxophone quartet (1998) – 14 minutes
PROGRAM NOTES: One of my favorite scales can be represented by the pitches C, Db, E, F, G#, and A. This particular collection of notes possesses a unique kind of musical symmetry that evenly distributes minor seconds and minor thirds through the octave. READ MORE
Sample Scores: Movement I, Movement II, Movement III
Recordings: America's Millennium Tribute to Adolphe Sax, volume 14 (AUR CD 3131)
Listen to a performance by the Presidio Saxophone Quartet
| | |
| --- | --- |
| Price: $35.00 (US Dollars) | |
---
Krause,Drew – Chat Farm for saxophone quartet and recorded sound (2007).
PROGRAM NOTES: Chat Farm waswritten for the Presidio Quartet, to whom it is dedicated. The piece is comprised of several non-repeating sections of contrasting texture and varying, but related, tempi. READ MORE
Sample Scores: Beginning, Middle, End
Listen to a live performance by the Presidio Saxophone Quartet
| | |
| --- | --- |
| Price: $45.00 (US Dollars) | |
---
Matthews, Wes– Saxophone Quartet No. 1 (2006) 8:23 minutes
Program Notes: (Coming Soon)
Sample Score: Page 1, Page 2, Page 3
Listen to the premiere by the Thump Quartet
| | |
| --- | --- |
| Price: $20.00 (US Dollars) | |
---
| | |
| --- | --- |
| Add all three titles for 20% off! | |